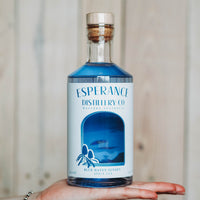 Gin Details:
Style: Contemporary
Vol:

200ml & 500ml available

42% Alc./vol
Tempt your senses with our limited Blue Haven Sunset spicy gin

.

This unique gin is builds upon a local wild-foraged Melaleuca with light eucalypt notes which is paired with chilli, ginger and native basil.

The nose is a light mix of lemon with a hint of eucalypt courtesy of the melaleuca.

On the pallet the initial notes are a complex mix of lemon, peppermint and basil which receeds into a light ginger mid-palate before finishing with a lingering chilli spice.

We encourage you to experiment with pairing mixers and garnish, experimentation is part of the journey. Recommended pairings include tonic/mineral water with a peel of ginger or finely sliced chilli.

Add tonic to watch the colours change from blue to blush pink! ✨

Awards:
Gold - 2023 Perth Royal Distilled Spirits Awards
Silver - 2023 Melbourne Royal Australian Distilled Spirit Awards
Jalapeño Gin and Tonic
45ml 

oz

 

gin

90ml 

Cucumber Tonic Water (or regular Tonic water)

1

 

jalapeño pepper
Instructions
Add gin to a highball or fizz glass with ice.
Slice the jalapeño pepper into disks. Place slices in between glass and ice.
Pour the tonic water over the gin and peppers and gently mix with a spoon or straw.
Ginger French 75
1

 

branch

 

fresh ginger root

45ml Blue Haven Sunset Gin

20ml

 F

resh Lemon juice

20ml G

inger liqueur

90ml Prosecco
Instructions
Peel ginger root and slice into disks. Add to empty shaker.
Add gin to shaker and muddle with ginger. Let sit to infuse for 10-15 minutes.
Add lemon juice, ginger liqueur, and ice to shaker.
Shake 20-30 seconds until shaker is frosty and cold.
Double strain into a champagne flute and top with prosecco. Garnish with candied ginger.